About Willow Health and Wellness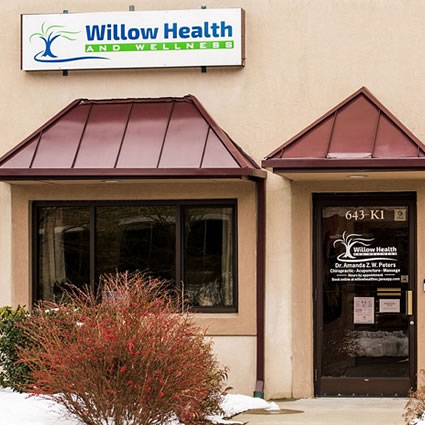 Dr. Amanda Peters has worked in the health industry as a researcher for years, studying developmental neurobiology. Though the work was fascinating, she decided to make a change to hands on work and join the natural healing profession. Dr. Amanda attended National University of Health Sciences, graduating in 2014. She's been a part of the Boone community since 1990, has been practicing as a Boone Chiropractor since 2014, and established Willow Health and Wellness in October of 2020.
You'll find that our location is convenient, right in the middle of town in the Greenway Business Park. There is plenty of free parking available on-site. We are close to shopping, hair stylists, gyms, and the Boone Mall, making it easy to stop by during your day.
What Is Chiropractic?
Chiropractic is a natural form of health care that is designed to restore the motion to restricted joints. A high-velocity, low-amplitude force is applied to a joint to get it moving again. Doctors of chiropractic (DCs) practice a conservative approach to health care that includes patient examination, diagnosis and treatment.
Joints can become restricted from injury, sprains, strains and weaknesses in the muscles, among other factors. Dr. Amanda will look at joints and muscles to make sure they're stabilized and strengthened.
What is Acupuncture?
Acupuncture involves the insertion of very thin needles through your skin at strategic points on your body. A key component of Chinese medicine, acupuncture is most commonly used to treat pain. Increasingly, it is being used for overall wellness, including stress management.
Chinese medicine explains acupuncture as a technique for balancing the flow of energy or life force – known as chi or qi (chee) – believed to flow through pathways (meridians) in your body. By inserting needles into specific points along these meridians, acupuncture practitioners believe that your energy flow will re-balance. In contrast, many Western practitioners view the acupuncture points as places to stimulate nerves, muscles and connective tissue. Some believe that this stimulation boosts your body's natural painkillers.
Get an Honest Opinion
We are not here to sell you on big treatment plans. You'll receive Dr. Amanda's honest opinion on what you require, and then it's up to you to make the decision. Dr. Amanda practices evidence-based care, and a vital part of that is looking at each patient's perspective. The end goal is to make sure that you get the help you need!
MEET DR. AMANADA PETERS »
Chiropractic has been shown to be effective in treating conditions such as
Low back pain
Neck pain
Degenerative discs
Fibromyalgia
Pregnancy-related ailments
Shoulder pain and rotator cuff conditions
Lateral and medial epicondylitis of the elbow
Knee pain
Ankle pain
Too often, people think that being in pain is a normal part of getting older. It's not necessarily true! If your pain came on suddenly it is rarely caused by the aging process. Conditions due to aging such as Osteoarthritis develop gradually, as do the symptoms, and even that ongoing achy pain from arthritis may be reduced by restoring motion to your joints with Chiropractic treatment.
One of our patients with fibromyalgia and migraines manages their condition with acupuncture and chiropractic at our office. Both have been reduced significantly-no more going to the ER for cocktails or injected medicines!
Get Your Function Back
If your body isn't working right, you may be experiencing some pain. Let's get your body moving again so you can function at a higher level. Contact our chiropractic office today!
---
About Willow Health and Wellness | (828) 832-6632